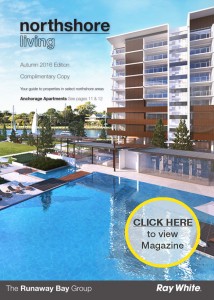 The Gold Coast's Auction Season was a buzz for our Summer Auction Blitz with 50% of the properties sold including pre-sales, 25% sold after the auction. It was a full house and fantastic to see competitive bidding for many lots.
A special congratulations to Rhonda Gunn on the great auction of 66 Meron Street, Southport. With 5 registered bidders and 45 bids—the vendors were thrilled with the final auction result of 20% over the reserve!
I am happy to advise our final auction clearance rate was 75% for January Auctions. February saw 3/4 onsite auctions sell under the hammer—clearance rate of 80%.
I would like to invite you to join us at the Easter Auction Bonanza on Tuesday 26th April, 2016 from 5.30pm at the Sheraton Mirage, Main Beach. This is the biggest Auction Bonanza on the Northern Gold Coast—one not to be missed!
Enjoy the coming warm days and cooling nights which Autumn has to offer!
Regards,
Ali Mian
Principal, The Ray White Runaway Bay Group
CLICK HERE to view full Northshore Living Magazine