Welcome to the spring edition 2016 of the Northshore Living Magazine. As expected our group has started the spring season very well with 26 million dollars in sales for the past 4 weeks.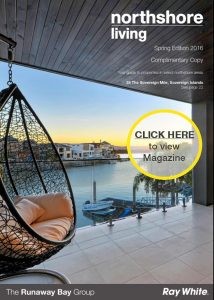 For sellers and buyers alike the September period is the perfect time to consider your real estate needs. We can expect the usual seasonal expectations where Spring and Summer are record breakers. I have no doubt that this
momentum will see an unprecedented year in our Group! August sale figures were already very impressive and we expect that to continue well into the spring season.
I hope you all enjoy the upcoming Spring months. We have a helpful and knowledgeable team who can advise what buyers and tenants are looking for to make your sale and investing needs simple.
Ali Mian
Principal – Ray White Runaway Bay Group
M: 0415 521 721 E: ali.mian@raywhite.com